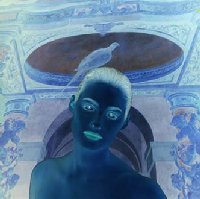 Faceless Friend

Your face, your smile, I have never seen
I don't know the color of your skin
Your voice and laughter I have never heard
I don't know if it is soft or loud
Your hugs I have never felt
I don't know the strength of your arms
Your hand I have never touched
I don't know if it is calloused and worn

But to me you are my friend
Dearer and sweeter than many I've found
The questions come to me, "How can that be?"
"You don't know a face, a touch, or a sound."
But is it the physical nature of a person
That causes me to call you "my friend"
Or the feel of a touch or the strength of a hug
I don't need those for you to be my friend

You have shared with me words of strength
At times I have felt weak and worn
You have brought to me a smile, a laugh
Uplifting me and bringing me joy
You have bent your "ear" to me and listened
Then gently guided and directed with your words
You have hugged me tight, wiped my tears
Then generously gave to me above and beyond

You are more to me than words on a screen
For behind those words is a person who cares
A person with feelings, a tear, and a laugh
Who holds my mind safe and secure
For even though I don't know your face, your touch
I feel and see you in my mind
You have been all to me that I've needed you to be
Now and forever within my heart...My faceless
Friend....


-Poem by Beth A. Rogers






erica-Hey you! You are a wonderful friend. I'm really glad that I got to meet you. We have been through alot together. And stuck it all out. Im thankfull for friends like you! I just want you to know your a very strong person, and I'm here if you ever need a shoulder or anything. *hugs* I love listening to you play your piano. You are great at it. Your voice is a killer to go kick ass with it =] because it rocks. Hey sister's forever!


suzy- Ahhh! You and me had a great time. I'm so glad that I got to meet you. I had the time of my life (litteraly) when you came up. I didn't know a person could have such fun. Ohhh whenever I think about Wal-Mart all I can think about is you and the spider web!! And Pringles the ring coming out *hehehe* I had a blast! Oh and if you come up again, we have to go to the lake again, it awaits our next visit. Your are an extrodinarly (did i spell that right?) person! You have been through so much. Anytime you need someone, remember Im not that far away.


amanda-Hey sis! You and me have been through all the sister things huh? Sheesh lol. You are a great sister to me. I hope someday that we can meet. We would definatly have a great time. I hope you get to go to college someplace in NY, that would rock. Hey what on earth did you do with pino man?? I have been missing him! lol nah you can have him. After all you DID make him right?? *EG* Your a great sister. Hang in there and keep smiling. You are a gem sister!

kris-, Tommy Girl Forever-Hey you two! You are wonderful friends. I am so glad that I got to meet you both. Thank you for always being there for me. I hope that some day I can repay ya for helping me =] Your both great friends. I hope that the future holds much greatness & happiness for you both. Bcuz you both deserve much of that. I love you both! Hang in there!


jan-you are a cool friend. Im glad that I got to meet you in This I Pray's chat room. I always enjoy chatting with you on icq!! Thanks for being a good friend! And I will talk to you on icq =] take care of yourself!! I hope that someday we can meet up seems we don't live to awfully far apart.

antiguy- he is a great friend. always willing to listen to me whine and stuff :) he has a great sense of humor too. I always like chatting with him. he has a big heart! i am glad to know him=]

still believing- she is a good friend too. she just got married to one of my other friends mark! i hope that you two have a great life together. you both deserve it very much.

jab- jab is a great friend. we always have interesting conversations :) you can always bet on that. she knows how to make me smile when im frusterated. i am glad that i have met her. for awhile we didn't keep in touch. now we are again. i am really happy about that too. shes truely a good friend.

yankee angel & andrewaka mom & dad- hey you are both great friends. I am really glad that thing's are going okay for you both. and I am really glad that you and Drew got married. I hope that you both have a long and wonderful life together, you both deserve it very much! Also thank's for and everyhing thing that you helped me with it is greatly appreciated! I love you both!



email me
go home
Šopy right Sapphire-Bliss